Choosing a rug is an important decision. Its style, shape, size, color and texture can make or break a room. But while the rug steals the spotlight, something less glamorous also deserves special consideration: the rug pad.
For most people a rug pad is an afterthought. But it's actually an important accompaniment to your rug. It ensures that no one will slip, and it protects the rug and floors from damage. Not all rug pads are created equal. Here's what you need to know about choosing the right one for your home.
Rug pads are made of different materials, and come in different thicknesses and sizes, for different kinds and sizes of rugs. Some are better for hard floors, and others work better on carpet.
Safety. Whether you have an intricate, handwoven piece of valuable artwork, like the rug shown here, or something simple, your rug needs to stay in place to prevent slipping, tripping and, in the worst case, injury. A rug pad acts as a grip by holding the rug flat against the floor to prevent sliding. It also keeps it from curling and bunching, which can create tripping hazards. Without a rug pad, some area rugs will "creep" along a floor over time (even if they have furniture on top), moving off-center.
Preventing rug damage. A rug pad will help your area rug last longer too. By keeping the rug in place, it prevents the fibers on the back of the rug from being agitated and wearing against flooring materials.
A rug pad also prevents premature wear by acting as a shock absorber for foot traffic, especially in high-traffic areas, like this entryway. The density of the pad preserves the pile of the rug and helps the fibers spring back into position after being walked on, preventing premature flattening of the rug pile.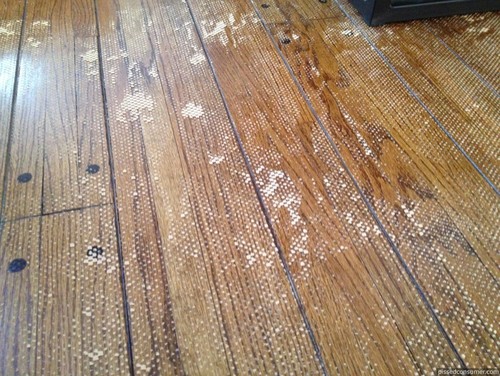 Preventing floor damage. The wrong rug pad can actually damage your floors. And because rug pads aren't frequently moved (or even looked at), the damage can go long unnoticed.
Vinyls include a large group of plastics, including PVC (polyvinyl chloride). Many lower-cost rug pads, most coming from overseas, are made of PVC. Because PVC is made from petroleum-based chemicals and isn't a breathable material, it's unable to absorb or release moisture. It "sweats" against the flooring material and can damage the finish, as in the image shown here. Residue from the chemicals added for "grippiness" also transfers to the floor finish.
It's best to avoid vinyl and PVC rug pads altogether. The cost to refinish or replace damaged flooring will far outweigh the comparatively minute cost savings from the rug pad.
Latex is a natural material that comes from trees. The composition of latex differs from plant to plant, but natural rubber, the best-known type of latex, is a good rug pad material for wood floors (more about this later).
However, rubber and synthetic latex, also known as SBR (styrene-butadiene) are frequently mixed with clay fillers as a way to reduce material costs. The clay in the rug pad breaks down into a powdery mess after one to three years. Avoid rug pads made of synthetic latex or any latex other than 100 percent rubber.
Chemicals added to small rugs with an integral nonskid backing — like those frequently used in kitchens and bathrooms — to help them stay flexible also react with flooring finishes and cause them to yellow, especially vinyl flooring.
Ideas on how to Prevent Slips and Floor Damage With the Right Rug Pad
Prevent Slips and Floor Damage With the Right Rug Pad