I was meeting with a client the other day for an interior paint color consultation, and at one point we found ourselves sitting on the stairs just outside of her powder room trying to figure out the exact shade of blue she wanted for an accent wall in the room. We couldn't find the color in the paint fan deck I had with me, but then she suddenly pointed to my ponytail elastic and said, "That's the blue I want!"
I'd describe it as a bold electric blue that has the teensiest touch of green in it. That very afternoon I saw the announcement of Blue Paisley as PPG Pittsburgh Paints' Color of the Year for 2015 and realized it was the exact hue my client wanted for her powder room wall. And now I am suddenly seeing this color popping up everywhere, from accent walls to winter clothing to decorative accessories.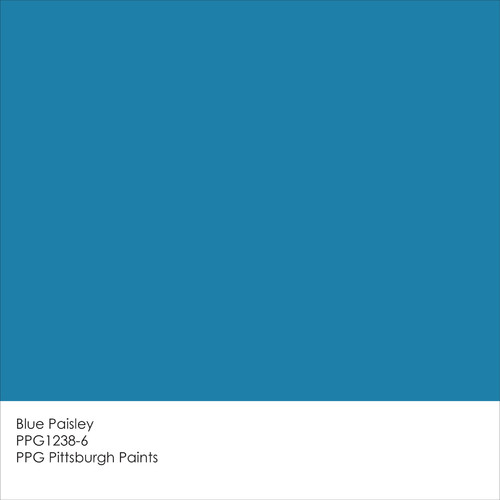 Blue Paisley was chosen for the 2015 Color of the Year by PPG Pittsburgh Paints because of its vibrance and global, bohemian vibe. It's meant to invoke positivity and possibility — things we tend to crave during chaotic and uncertain times.
Now this is no neutral wisp of a color. It's an intense blue that is best used in small doses, to call attention to certain interesting areas or features of your home.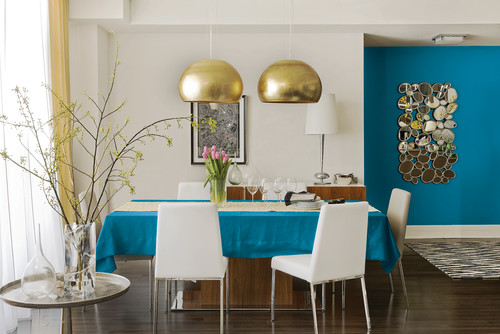 Here's a great example of how to use the attention-getting hue. The partial accent wall really draws the eye into this dining space. The bright blue also acts as a nice eye-catching background for the shimmering wall art.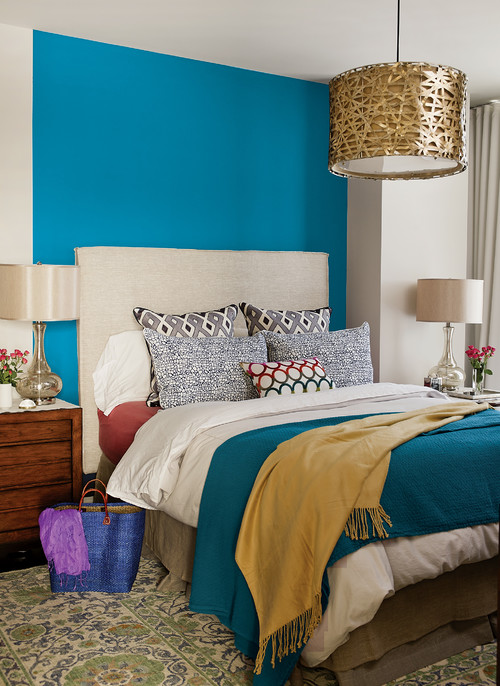 If you love colorful interiors but are nervous about taking the leap in your own home, try limiting the bold color to just one wall. In a bedroom I like making the headboard wall the accent wall. It anchors the bed in the room, and the bed and headboard (and any artwork hanging over the headboard) help break up the block of color a bit, lessening the intensity.
If your bedroom has a low ceiling and doesn't get much natural light, keep the ceiling and remaining walls light and fairly neutral. This will prevent the color from feeling too heavy and the decor overdone.
Read more of the Best Uses for the Boho Blue Color of 2015
Best Uses for the Boho Blue Color of 2015