There is a certain squirrel-like pleasure in stocking up for cold weather — and potential power outages — from the regular essentials, like flashlights and warm socks, to the fun essentials, like bottles of wine and new board games. Knowing you have all you could possibly want tucked tidily away is a wonderful way to kick off a season of coziness.
Firewood. If you have a woodstove or fireplace, stocking up on good, dry wood is essential before winter really kicks in.
Although wood does look inviting all stacked up, it's probably best to store the bulk of it outdoors to prevent little critters from entering your home. A covered porch can be a good transitional space for keeping a wood pile, and a neat stack of wood is a cozy thing to look at as you enter the home on blustery days.
Muck boots and barn coats. Sure, we all have our nice boots and coats for going out, but it's so handy to have a selection of sturdy muck boots and waxed coats to toss on when you need to take care of a quick outdoor chore.
And there is something so charmingly British countryside about their being all lined up by the back door.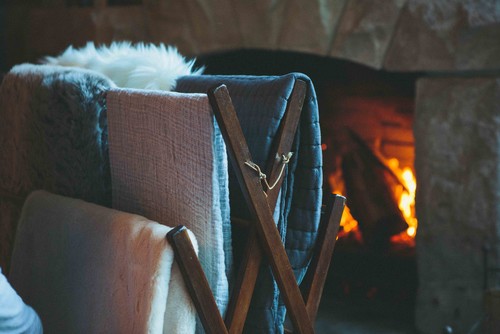 Cozy bedding and toasty throws. Fresh, new bedding is an instant pick-me-up for lagging spirits in winter. Think layers of warm coziness — flannel sheets, wool blankets and thick duvets. And having an assortment of luxuriously soft throws is a must. On cold days there's nothing better than toting one around from room to room (along with a mug of hot tea, of course) to warm your shoulders or toes.
Simple Pleasures: Stocking Up for Winter
Simple Pleasures: Stocking Up for Winter