When a newfound freedom brought the promise of a fresh chapter in Carolee Coco's life, it meant starting again in a different home — a 1950s clapboard house in suburban Melbourne. Embarking on full-time study in psychology meant that income was limited, so she had to be quite savvy and thrifty in her approach to decorating. Additionally, the house needed a significant amount of TLC to bring it up to scratch.
With a little help from her family and friends, a lot of elbow grease and a huge amount of patience, Coco has created a home that perfectly reflects her personality. It's a space that is just as much about sentiment as it is about beauty. "I believe that interiors are a labor of love and that the development takes time," she says. "Trying to make it perfect only makes it insincere. My advice would be not to overthink the concept. Instead just work according to your instinct and remember that the more comfort your space gives you, the more comfort it gives to others."
Houzz at a Glance
Who lives here: Carolee Coco (almost always known as Coco) and her dog, Jimmy Jim
Location: Melbourne, Australia
Size: 2 bedrooms, 1 bathroom
Coco says her most challenging design tasks were choosing the wall color and window finishes. To create the color she envisioned, she had a friend mix the paint instead of buying it off the shelf.
"I thought long and hard about the color on the walls. It is a type of aqua but more on the blue side," Coco says. "I chose it because it's a very peaceful color and it has a kind of warmth and richness. It is really easy to style using this color. It's like the sky."
The photograph of the rat is by conceptual fine art photographer Serap Osman. It creates an amazing focal point (and no doubt talking point) in the living area.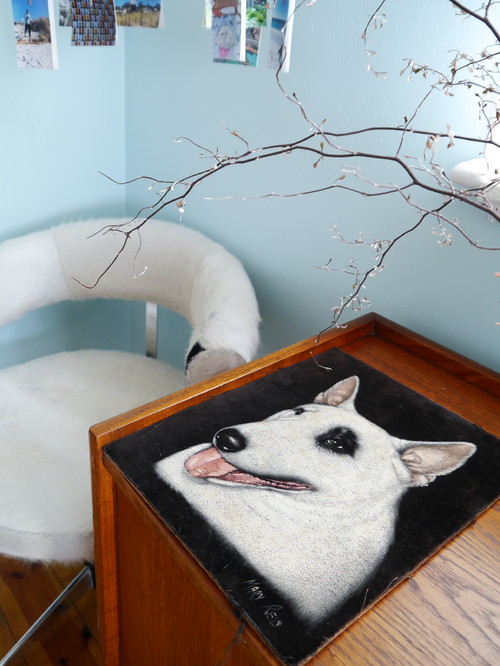 Artwork can be seen on every wall, and in some cases, as here, on the surfaces of furniture, giving the space a creative edge. Coco is responsible for much of the artwork; this piece is by artist Mary Reid.
My Houzz: A Fresh Start in a Welcoming 1950s Home
My Houzz: A Fresh Start in a Welcoming 1950s Home