"Hallways are dead space," says interior designer Harmony Weihs. When designing this renovated kitchen, she knew that between the permit process and extensive construction, expanding the space with an addition would be a huge expense. Instead, she broke through to a dark hallway and incorporated it into the room, gaining 62 square feet. She also ripped out dated soffits and upper cabinets, changed the layout from a U shape to one that incorporated a large island, added a large window and used reflective surfaces like glass tile and stainless steel to make the new room functional, brighter and much larger feeling.
Kitchen at a Glance

Who lives here: A couple who loves to cook and entertain
Location: Kenmore, Washington
Size: Expanded from 150 to 212 square feet (14 to 20 square meters)
"She absolutely loves industrial style, and he loves the color green," Weihs says. Both homeowners love to cook and wanted the new kitchen to turn into an entertainment hub during parties. "As a cook myself, I love to think about how the kitchen will function," Weihs says. "This layout keeps the work zone clear while friends can gather on the other side of the island."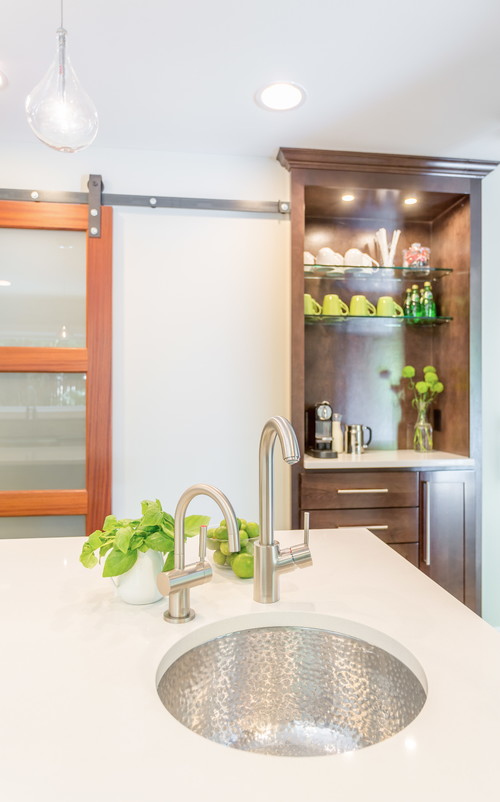 A water purification system was important to her clients. This shimmering hammered-nickel sink in the island has a water filter and is a handy place from which to serve drinks to guests.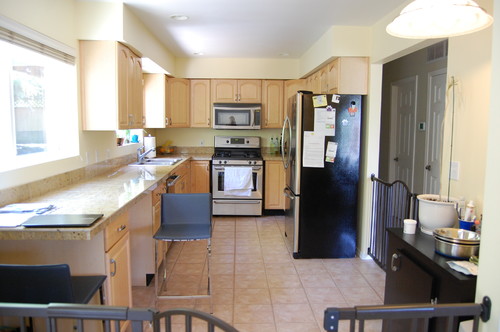 BEFORE: "We only had 8-foot ceilings to work with, and the upper cabinets and soffits were making them seem even lower," Weihs says. "We have a lot of overcast days in the Pacific Northwest, and we needed to let in as much light as possible." She persuaded her clients to rip them out. To the right you can see the former hallway.
Kitchen of the Week: Taking Over a Hallway to Add Needed Space
Kitchen of the Week: Taking Over a Hallway to Add Needed Space