In 1969 a couple commissioned celebrated Dallas architect Enslie "Bud" Oglesby to design a home for their family on a sloping, wooded site overlooking a ravine and creek. Oglesby created a home that angled around the creek, affording views and light with big stretches of window walls.
Years later the original owners befriended Dallas architect Bruce Bernbaum and his wife, Cindy, who spent many hours at the house and came to know its charms. Bernbaum even had informal conversations with the homeowners about plans to renovate and expand the house. After decades of living in the house, though, the original owners opted to sell. Their wish? That the new owners respect the home's design — and that they use Bernbaum for any renovations.
The new owners happily complied, and Bernbaum updated the house, adding a master suite, creating a new entry and expanding the family room, all honoring the original Oglesby style.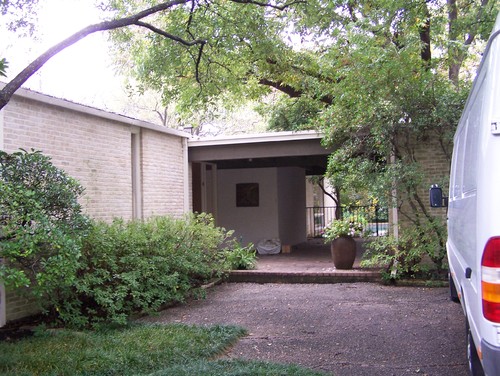 The original entryway didn't make the kind of visual impression the new homeowners wanted.
AFTER: Bernbaum created a new entry by enclosing a breezeway between the detached garage and the house. A new glass-pyramid-topped entry pavilion adds to the home's indoor-outdoor appeal. The stone fountain is a serene note.
The architect matched the home's original glazed brick flooring for the new entry, which overlooks the backyard. The original wood entry door was reused as the door to the garage on the right.
More Houzz Tour: Seamlessly Updating an Oglesby in Dallas
Houzz Tour: Seamlessly Updating an Oglesby in Dallas