It's good to have friends and family in the home remodeling business. Luckily for Jordan and Katie Macnab, there's no short supply of them in their world. Jordan's late father was a builder, and his mother is an architect. Katie runs the office of her parents' electrical company, founded by her grandfather in the 1940s. And the couple's close friends are plumbers, framers, artisans, flooring professionals and more. "Need flowers? We've got a flower person, too," Jordan says.
He taps into this network for his real estate company, but he also calls on them when he needs a little help of his own. When he and Katie had just six weeks to renovate their newly bought Vancouver loft as they prepared to welcome their son, Gray, into the world, Jordan took on a lot of the work himself. But he also turned to friends and family to help with new lighting, cabinets, plumbing and more.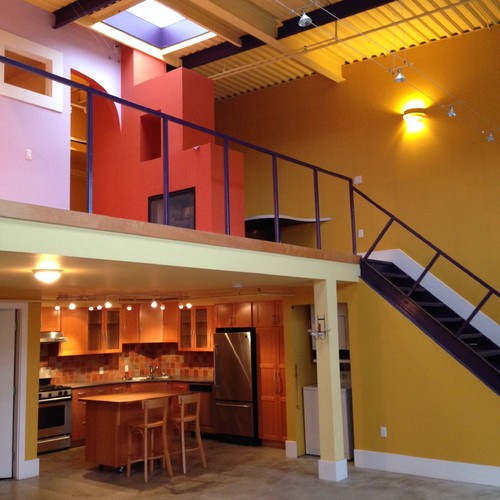 Houzz at a Glance
Who lives here: Jordan and Katie Macnab, and their son, Gray (6 months old)
Location: Vancouver
Size: 1,350 square feet (125 square meters); 2 bedrooms, 2 bathrooms
BEFORE: The loft was originally built in an industrial warehouse as a live-work space for artists. It hadn't been updated since its construction, and its retro look — with orange, purple, green and yellow — wasn't in line with Jordan and Katie's style.
AFTER: Jordan updated the space in a modern style with white and gray paint. He ripped out all of the Shaker-style Ikea cabinets and had a buddy frame the custom cabinets for him, which he then installed. The counter is pure white quartz bought from another friend.
The main living area in the loft was previously one large, open space. Jordan framed off a portion of it with a reclaimed-wood wall to create a home office, then built a new bedroom for baby Gray above it, which is accessed through the sliding barn door. (Jordan's uncle is a building inspector in a nearby city and came over to check on his structural work.)
To paint the 18-foot ceiling, he lay down on scaffolding with a spray gun while a friend pushed him around.
See more of this Modern Loft.
Houzz Tour: A Modern Loft Gets a Little Help From Some Friends