After living for six years in his downtown Edmonton loft, in the Canadian province of Alberta, this homeowner was ready for a change. He liked the industrial nature of the space — soaring ceilings, raw redbrick walls, exposed ducting and conduit — but didn't like its low-grade cabinetry. Plus, he was flat-out tired of his furniture.
While he didn't mind getting his hands dirty doing some of the work of refreshing the space, he knew he needed professional help when it came to the layout and choosing colors and furniture styles. He found designer Brenda Brix of AMR Design while searching for local professionals on Houzz and enlisted her help through a design consultation. She wrote up a detailed plan, and he implemented it himself, finding materials and furnishings and even teaching himself how to build and modify pieces.
For example, he bought mirror tiles and antiqued them. He took a basic pine cabinet from Ikea and distressed it. He even located his own stainless steel and installed it himself as a backsplash. "I wanted to add personal touches and cool things that people would come in and we could talk about them for five minutes," he says.
Brix's plan divided up the long, narrow space without interior walls into a TV room with a sectional near the farthest window, a reading area with a single chaise in the middle and a conversation grouping with four chairs, seen here in the foreground. The sleeping area is to the right (not shown), separated by bookshelves.
Each chair in the conversation area is from a different supplier, because Brix and the homeowner felt that four of the same club chair would have made the space feel too heavy.
Breaking up the three walls of brick with artwork also kept things from feeling too heavy. The homeowner made the bus stop–style signs himself on canvas. "It brings a little script into the space and flows with the brick, so it feels like you're outside," says Brix.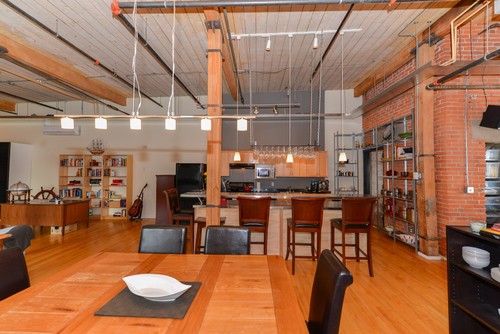 BEFORE: The low-grade kitchen cabinets and lack of a backsplash played a big part in the homeowner's decision for a new look.
AFTER: The homeowner removed the cabinets and countertop himself and found a contractor to weld the sink and integrated countertop from stainless steel. He then had the steel cut for the counter-to-ceiling backsplash and enlisted the help of his neighbor to install it.
He created the live-edge floating shelf from a piece of wood he picked out at a local supplier and attached it himself. He bought the range hood from Costco and took it to a local powder-coating shop.
The stairs lead to a home office.
DIY Spirit Reinvents an Industrial Home
DIY Spirit Reinvents an Industrial Home