The older I get, the more my garden experience is about celebrating the echo of plants — the ghosts of flowers, which provide so much additional beauty for months on end. The absence of growth, the muted colors and earthen tones of the leftovers resonate with me, almost as if the garden is speaking to me in a warmer, more meaningful voice.
The longer I design gardens, the more I plan for the afterimages of flowers and grasses, and I think if you can start seeing your landscape in the same way, your garden experience, from design to morning strolls, will become more transcendent and alive. Following are lots of perennials and grasses with seed heads that can highlight the autumn and winter garden.
Let's start by looking at a garden that keeps in mind the season in which most of us hunker down inside with an Irish coffee. To me this landscape succeeds precisely because of the seed heads atop the perennials and grasses — I think we'd say the same if those were all abloom with a rainbow of flowers. This is a garden I want to be in during winter as much as summer, if not more. I suspect hungry or cold wildlife might feel the same.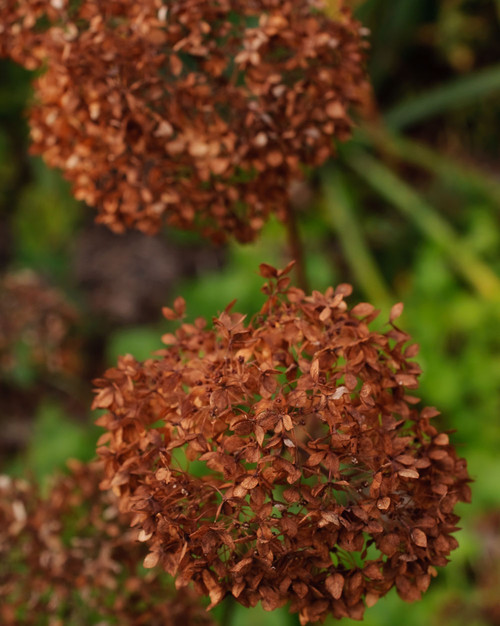 Hydrangea is a garden standby that's dependable and widely available. The big puffballs add a distinct dimension and color to any autumn or winter garden as they catch light at different times of the day. Topped with snow, they look even more enchanting.
Joe Pye Weed (Eupatorium purpureum) has clumps of tall stalks with delicate seeds floating like little halos. When the seeds lift off, you're still left with an umbrella of structure and texture that withstands winter winds.
See more of Autumn's Spent Flowers Enrich the Off-Season
Autumn's Spent Flowers Enrich the Off-Season