What is darkly romantic? It's a style that evokes overcast afternoons cocooned under heavy blankets perfumed with incense. Colors are deep and saturated and range from black and navy to silver and gold. Walls are adorned with moody art that sends your mind wandering, and the air seems full of secrets. Rooms are sensual — simple or luxuriant — and have a vibe that feels both soft and subtly dangerous.
Rich fabrics and textures are layered to create a decadent, introspective atmosphere. On the verge of beautiful melancholy, accents have an edge or otherworldly quality about them. Applying to many styles, from traditional to contemporary, low and lush shapes, ambient lighting and glints of mirror and metal create a darkly romantic environment that invites you to let go of pretense and relax into a daydream.
What it is not, however, is a Gothic macabre dungeon. Think sexy not scary, and intriguing not intimidating. It's not about a theme so much as a feeling — a sultry, dark undertone to the everyday rooms you inhabit. So go ahead. Here's how to get darkly romantic in your own home.
Why it works: Darkly romantic spaces envelop you in a feeling of mystique and elegance removed from the day-to-day challenges of the world. They embody a feeling of introspection and long-lost memories. It's a misty-morning view of the world from a window framed in velvet curtains.
You'll love it if … Your favorite time of the day is the dusk before nightfall, you're entranced with shadows thrown by flickering candlelight, you read Pablo Neruda poetry and keep old love letters stashed for rainy day remembering. You have a slightly subversive side that plays well with your well-tailored exterior, and the thought of bold, bright colors or country cottage chic gives you the shivers.
Style tip: Choose a palette. A darkly romantic space relies on a foundation of deeply saturated colors that set the tone for the types of furnishings and accessories that will work best.
Although dark colors work the most magic, lighter tones, like the toffee shades chosen for the bedroom shown here, can also be effective when paired with darker tones from the same color family, such as espresso-colored wood or chocolate-tone side tables.
Once you've picked your base color — the starting point for your room — layer in furnishings, textiles and lighting from the same color family to achieve a calming, cocoon-like feel.
Here, the patterned rug adds interest while the moody lighting keeps it sexy.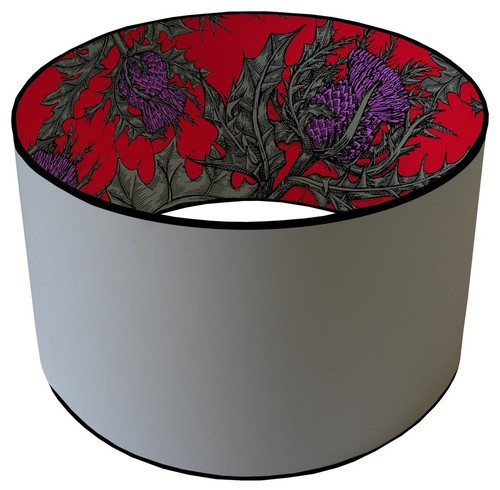 Experiment: Go darkly romantic in subtle ways. Even a touch of noir can change the mood of a room. Try a lampshade with an unexpected interior print that leans to the left of sweetness. Here, the conservative exterior belies the prickly purple thistle inside.
See more of So Your Style Is: Darkly Romantic
So Your Style Is: Darkly Romantic