From the towering trees of the forest to the solid mountains and the infinite expanse of the ocean, nature influences designers and homeowners. We frame views, choose colors and build homes to honor these anonymous masterpieces. Engineered constructions, though less pristine, can be just as impressive, and for the owners of a Brooklyn apartment, they were just as inspiring.
The Manhattan Bridge spans New York's East River, passing directly in front of Sheena and Paul Murphy's apartment in the Dumbo neighborhood on its way into Brooklyn from lower Manhattan. Though the 114-year-old beams and windows of their converted warehouse could fuel an exceptional design on their own, it's the turn-of-the-century architecture outside their living room window that is at the core of this well-dressed apartment.
The couple was attracted to different styles and design periods; she prefers the Victorian influences of her native England, and he leans toward a clean, unfussy aesthetic. But they both knew that highlighting their living room view was their first priority. Their unified preference for cool neutrals inspired them to look outside to the bridge, water and Brooklyn Bridge Park for color inspiration, and they ultimately chose a dark blue-green for the walls. "We wanted to add color in a powerful but controlled fashion," says Sheena, the owner of interior design firm Sheep + Stone.
Sheena marked a 12-foot by 11-foot space in the open plan for the living area. She incorporated a sofa they already owned with versatile new furnishings that could be used in the future in different spaces, for different purposes and with other new pieces. "We kept furniture, lighting and accessories neutral so pieces could be interchangeable," she says. She balanced the shapes and weight of the furniture. Since the sofa was pretty solid, she selected a vintage Lucite and glass coffee table to keep the room's center open. A Windsor chair sits off the floor and has open sides and and an open back.
Patterns, shapes and materials from the bridge also influenced how Sheena filled the room, from the textiles to the light fixtures and furniture. "At a very abstract level, we wanted to create an environment where modernism, history and a variety of cultures and textures came together," she says. She didn't focus on each piece, but instead thought about the project as a whole and tried to envision how the pieces would look next to one another, not just on their own.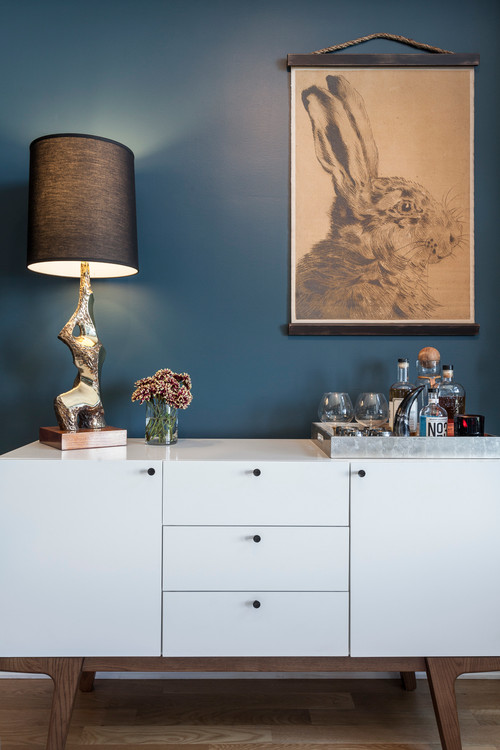 Wall art helps break down the open kitchen, dining and living areas into smaller rooms. The rabbit art here, off-center over the buffet, marks where the bar area ends. "By grouping it with the artwork, it more clearly defines it as its own space," says Sheena.
Sheena and Paul like to cook and entertain, so they kept the connection between kitchen and living room clear, with these vintage Eames dining chairs and Paul McCobb dining table forming the dining area in between. "It made sense to create a strong flow between all public spaces, while maintaining visual division," says Sheena.
Room of the Day: A Piece of Manhattan Inspires a Brooklyn Apartment
Room of the Day: A Piece of Manhattan Inspires a Brooklyn Apartment