There was a lot to like about the living room in Brian Garrett and Stephen Fronk's 1878 Victorian flat. Located in San Francisco's Liberty Hill Historic District, the home had 12-foot ceilings and lovely architectural details. But the long, narrow layout and the lack of storage options for media made the space feel uninviting.
Turning to their friend and designer Sara Story for help, the pair created a welcoming living room that celebrates the beautiful architecture but has more warmth and better storage. Elegant window treatments, a new built-in enclosure for storage, a light gray wash on the wood floor and midcentury furniture and accessories transformed the space. "I really wanted them to use this living room," says Story. "This used to be the room that collected dust balls."
The living room is the first space that greets visitors, so it was important that the room feel inviting. Drapes were a top priority. "Window treatments are expensive, and we didn't have the experience or confidence to know what to do there," says Garrett. "Sara picked the fabric, and once you do it, you realize it's worth every penny."
The custom drapes are ivory cotton and silk with a contrasting black and cream striped hem. They dress up the tall windows and emphasize the room's height. "Drapes really create a formality to a room and add a glamorous element," says Story. "It adds an extra layer to the windows that creates warmth."
Adding a white built-in enclosure with millwork (seen on the left side of this photo) gave the owners the storage they needed. A bottom cabinet with drawers holds barware; an upper cabinet with folding doors opens to reveal a large TV. Separate cabinets hold media equipment and an automated home system.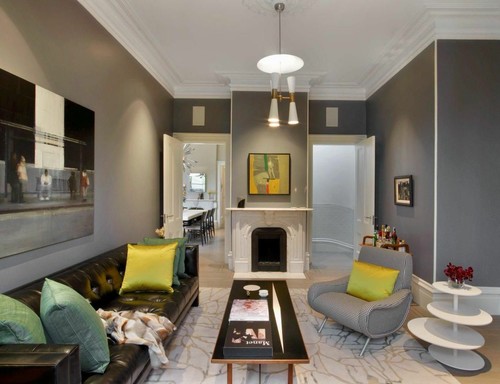 The painting above the fireplace, purchased on a trip to Vietnam, inspired the living room's color palette, including the green and yellow silk pillows on the sofa.
The pattern in the large ivory wool area rug was inspired by the natural veining of stone and marble. The existing oak floor was given a light gray wash to make it feel a bit more contemporary. The walls were repainted the same Dior Gray the owners had used before. ("That was the one thing we did right," jokes Garrett.) It's a rich, saturated tone that envelops the space and highlights the living room's classic molding.
The left door in this photo leads to the dining room. The door to the right of the fireplace leads downstairs to the flat's front entry. 
An oil painting by Oakland, California, artist Brett Amory was chosen for the prime spot over the tufted black leather sofa. The new sofa was just what the owners were looking for — timeless, stylish and masculine. "It's so comfortable and sophisticated at the same time," says Garrett. "It's also much more inviting than the Danish sectional we had before."
Read more about this Room of the Day: Comfort and Sophistication
Room of the Day: Comfort and Sophistication