While buying a glass-topped propeller coffee table from HD Buttercup in San Francisco, this homeowner asked design consultant Daphne Steinberg if she'd have a look at his loft and make some design suggestions. "He had a huge black leather sectional and a huge TV and not much else," Steinberg says.
After hearing her out, the homeowner, a forensic accountant, hired Steinberg and her former collaborator Briana Nix to work their magic, which focused on using the homeowner's love of surfing as inspiration. "He was one of those dream clients, open to everything from crazy wallpaper to pink pillows," says Steinberg, who jokes that the vast improvement to the loft might have even affected the homeowner's love life. "When we met him, he was just a bachelor; by the time we finished, he was engaged," she says. "I like to think that our work was influential in that department."
Houzz at a Glance
Location: SoMa neighborhood of San Francisco
Size: 2,000 square feet (186 square meters); 1 bedroom (loft style), 1½ bathrooms
BEFORE: The first thing you saw when you entered the old loft was a nearly 20-foot wall with a TV and a large trunk against it. "My first thought was that that wall is such a showcase wall," Steinberg says.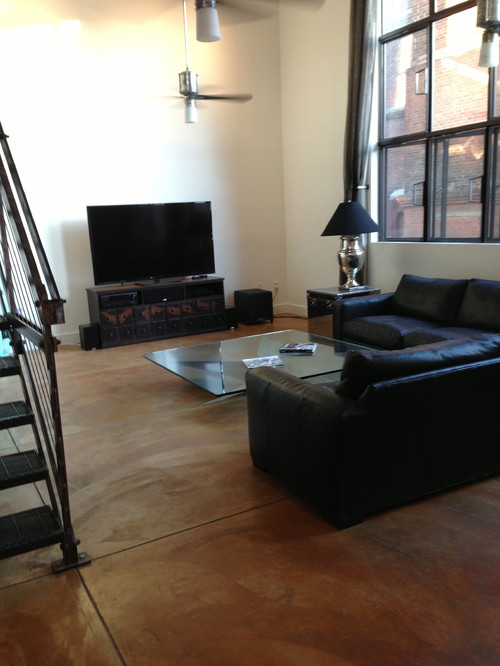 AFTER
She had been wanting to use Eskayel wallpaper in a project and seized on the opportunity to introduce a bold graphic blue design. She chose wallpaper rather than art because of the size. "A big piece of art is very expensive," she says. "With a wall that size, even a gallery wall would look too small. You'd have to have something so huge. Wallpaper just made sense."
At one point Steinberg noticed that many times when she visited the homeowner during the design project, he was in another room watching TV, so she pressed him on the need to have a large TV in the living room. She eventually convinced him to move it elsewhere. "We set it up more for entertaining, not for lounging," she says. "It's more buttoned up and formal."
She also noticed that the homeowner had six surfboards leaned up against another wall, and used this as inspiration for incorporating blues, aquamarines and teals. "This guy wouldn't do Shabby Chic wicker furniture, and it being a loft, we wanted to keep it pretty edgy," she says.
She had considered mounting the surfboards horizontally, but the homeowner didn't want to put holes in the wallpaper. "So we decided to just lean them up," she says. "It really helps balance out the whole wall and volume of the space."
The updated chesterfield-style sofa also helped fit the scale, while the caramel color complements the blues used throughout and the warm brown stain on the poured concrete floors.
The table is the glass-topped antique-propeller table the homeowner had bought at HD Buttercup, where he met Steinberg. (She now has her own design business.)
The fans were already there but had frosted glass covers. Steinberg replaced those with simple Edison bulbs.
Read more about Surfing Inspires a Metal-Happy San Francisco Loft
Houzz Tour: Surfing Inspires a Metal-Happy San Francisco Loft