"The house was in a bad state of repair, and putting it right was an extensive project," says interior designer Charles Bateson. "Everything had to be done from scratch." Before Bateson got his hands on the interior, though, the house was completely remodeled, which involved preserving and renovating the old part of the property, then adding a new, more contemporary structure on the side.
Houzz at a Glance
Who lives here: A family with 4 children
Location: The Cotswolds, England
Designer: Charles Bateson Interior Design
Size: 4 bedrooms, 3 bathrooms
The wood-framed addition was built using local stone, so it's sympathetic to the landscape. "Everything you can see here is new," Bateson says, "but it was designed to suit the vernacular of the area."
Bateson kept the interior of the extension fresh, comfortable and modern, so it doesn't detract from the stunning views of the valley beyond. Cotswold houses traditionally have tiny windows, so the addition is a departure. "There's a lot of natural light in this part of the house," says Bateson, who has worked with the owners on several projects. He kept the furnishings simple and elegant in this part of the house; the smooth limestone floor softly reflects the light. A Mongolian lambswool footstool of his own design adds a dash of luxury.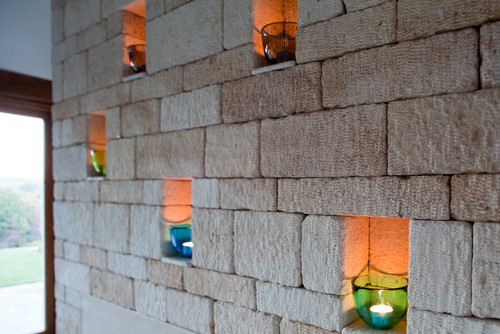 The fireplace surround is made from bush-hammered local stone, which is peppered with little indentations that add texture. Colorful glass tea-light holders sit in the niches, so the chimney area can be home to flickering flames even when the fire is not lit.
See more of this Traditional English Home
Houzz Tour: Sophisticated Updates for a Traditional English Home