"Sometimes a house will speak to you and tell you exactly what it wants," says interior designer Renee Carmen of her family's New England 1850s farmhouse. "This barn had great energy — it needed to be brought back to life, and the renovation needed to be fun," she says. They envisioned expanding their living space into the barn, which was attached to the main house via a breezeway. The barn had been used for many different things over the past 160-plus years, including serving as a boat builder's workshop.
"The original 1850s farmhouse is cut up into small rooms, which are wonderfully cozy — it wouldn't have been right to open it up," Carmen says. While the large family loved the warm feeling of the farmhouse, there wasn't one big, communal space where all six of them could gather very comfortably, much less with extra guests. Here's how they created a welcoming space for gathering, eating, playing games, hosting guests and throwing parties, just the way the barn told them to.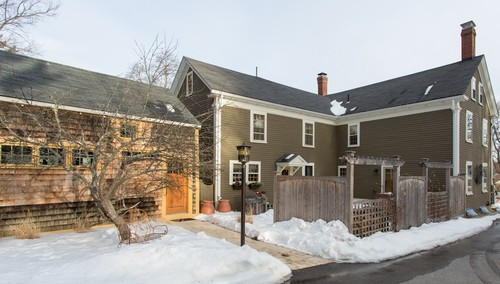 Barn at a Glance

Who lives here: Renee and Rich Carmen and their 4 children
Location: Newfields, New Hampshire
Size: 700 square feet (65 square meters)
Design: Mandeville Canyon Designs
This photo gives you a good idea of how the barn relates to the rest of the house. The door on the barn now serves as the main entrance the family uses.
This is the new entryway through the barn to the home. "I always tell my clients not to worry if it doesn't look like a typical mudroom; it just needs to be functional, interesting and accessible," Carmen says. Here a mix of hooks, shelves and vessels ensures that everyone will put things where they belong upon entering.
Half-sawn branches outfitted with rock knobs help keep things interesting and organized by offering a place for hanging coats, bags and hats. Copper buckets contain mucky shoes and boots, and keys can go on an antique sewing table. To the right, shelves made from sanded and painted salvagedcorbels hold mittens, gloves and more. The corbels came from an old building in Lowell, Massachusetts; the shelves are made from a broken-down armoire the couple cut up. Vases that look like logs add another woodsy touch.
Colorful Flor tiles create a welcoming entry. They are easy to clean, and if one gets really mucked up, it can be easily removed and replaced. Overhead, the ceiling reveals the original timber wood. Made-to-look-vintage train lights are an appropriate choice and are spaced across the ceiling.
See more of this 1850s Barn.
An 1850s Barn Gets a Family-Friendly Makeover