Having enough of the right kinds of table lamps can make a room feel instantly cozier and more welcoming. But sometimes figuring out which table lamp to put on which table can be tricky — what about that slim console behind the door, the sofa table floating in the center of the room or the console with the huge artwork hung over it? Here I've gathered 10 combos of table lamps with the tables they look best on so you won't have to guess.
1. Modern credenza + big pottery lamps. Embrace the midcentury look by playing with proportions — top a petite, low-slung credenza with a pair of chunky pottery lamps. Or work with one big statement lamp and balance the arrangement by hanging or propping up a large piece of artwork slightly off-center beside it.
2. Bamboo tray table + petite ceramic lamp. A bamboo tray table makes an elegant nightstand, but a large lamp would overpower it, and a task lamp would look out of place. Instead, choose a small-scale ceramic lamp with an empire-shape shade, which is larger at the bottom and best for casting light where you need it.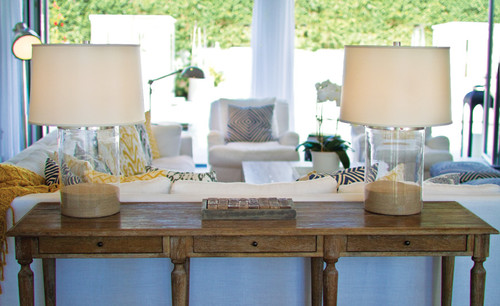 3. Sofa table in middle of room + airy glass lamps. When your sofa is floating in the center of the room, clear glass lamps won't block sight lines. For summer try partially filling cylindrical glass lamp bases with sand for a beachy look. (Now the only trick is getting the outlets in the right place.)
More of Table + Lamp: 10 Perfect Pairings
Table + Lamp: 10 Perfect Pairings