The owners of this stately 1930s colonial in Chevy Chase, Maryland, set out to upgrade their kitchen to better reflect the architectural details of their home. As professionals and the parents of two young children, they also wanted a workhorse kitchen that could stand up to the rigors of daily meals and frequent dinner parties. A better connection with their nearby family room and a designated breakfast area for casual meals were also at the top of their list.
They removed two walls of the existing kitchen and borrowed about 12 feet from an adjacent in-law suite to create enough room for a large center island and good circulation. They also pushed out a sink wall a few feet to make the kitchen flush with the family room. A new half wall/architectural screen now defines the kitchen and breakfast area while making a strong connection between the kitchen and family room. See how it looked then and now below.
BEFORE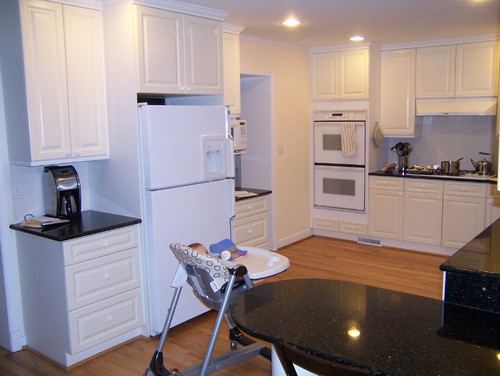 Kitchen at a Glance
Location: Chevy Chase, Maryland
Architect and general contractor: Gilday Renovations
Size: 200 square feet (18½ square meters)
Previously remodeled in the 1990s, the old L-shaped kitchen had no island and only a small peninsula that didn't offer the workspace or storage the homeowners desired. By removing the wall where the range was and pushing into the in-law unit, they gained the space they needed for the upgraded kitchen.
"The challenge of this project was how to give intimacy for the kitchen while retaining the open feel we wanted for the kitchen, breakfast space and family room," says project architect Dan Morales of Gilday Renovations.
AFTER: This is basically the same angle as the previous photo, only now you can see how the kitchen got pushed back to the wall that was originally in the in-law unit. By doing this, the team was able to add new operable casement windows on each side of the cooking zone that offer views of the side yard outside. "They provide light, make it a friendlier space and anchor the range," notes Morales.
The new layout allowed room for an impressive custom center island with a large stainless steel Julien sink, two stainless KitchenAid dishwashers and a polished statuario white marble top from 3Cm. The couple painted the base of the island a blue-gray color (Web Gray by Sherwin-Williams) that provides contrast for the kitchen's white cabinetry and the perimeter stone counters in Kodiak Brown with an antique finish from 3Cm.
A roomy 48 inches separates the island from the surrounding counters and appliances. "We did this so two people can work comfortably in there at the same time," explains Morales. The crackle tile backsplash with a custom gray grout along the range wall keeps with the classic look and feel of the home.
See more of the Kitchen of the Week: Casual Elegance and Better Flow
Kitchen of the Week: Casual Elegance and Better Flow