Everyone's got something to hide. Cash, documents, jewels, guns, clutter — these are things that earn our extra consideration for being stashed away securely. And no, under your mattress or at the bottom of your sock drawer isn't going to cut it.
Enter the hidden doorway behind the bookcase. This cool concept keeps your belongings safely tucked away out of sight. Plus, it's fun. Here's how to add one.
Project: Creating a hidden doorway.
Things to consider: First you've got to decide where your secret doorway will be. Obviously, it's going to be much easier to turn an existing doorway into a hidden one. Hallway closets, laundry rooms, mechanical rooms and home offices are great candidates.
Otherwise, if you choose to cut into an existing wall space, you'll likely want to hire a professional to help determine if your chosen spot is doable or not. If you have to reroute electrical wiring, plumbing or HVAC ducts, this project can quickly get expensive.
You'll then want to measure your doorway — 32 inches and 36 inches are the most common widths — and think about how you'll want to conceal the opening. Bookcases are by far the most popular choice. They do a great job of distracting people from thinking there's a doorway behind them, and are functional because you can store books and display items on them.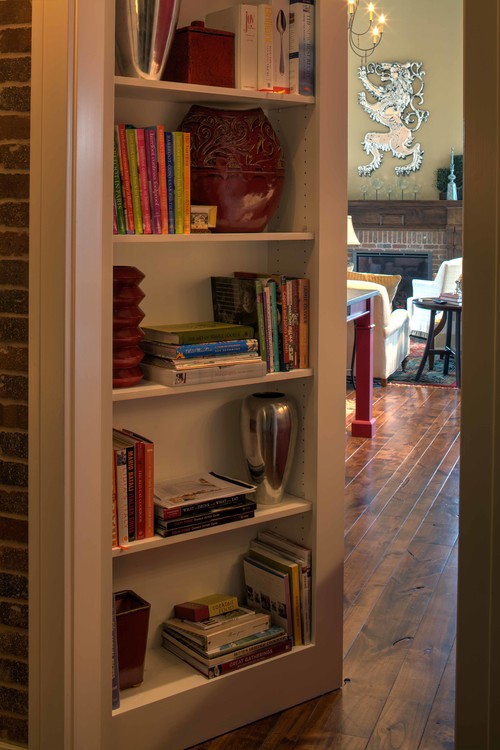 For this project Thad Wende of Wende Woodworkingcreated a custom swivel bookcase that conceals a storage area in which the homeowners keep private personal belongings. To support the weight of books and other accessories on the shelves, most pivoting bookcases sit on a couple of swivel casters that allow the case to roll easily in and out. That's why carpeted floors aren't recommended for this style of bookcase.
Wende recommends considering how your bookcase unit and frame will match up with nearby trimwork or other cabinets. "If you can paint it onsite while you're installing other cabinetry, or at least get a good match to surrounding pieces, that's best," he says. "Otherwise it will give itself away."
He says it would cost about $1,500 to $1,750, parts and labor, for a piece similar to the one shown here.
For the 2010 San Francisco Decorator Showcase home, designer Jessica Weigley used this shallow display case to conceal a closet that she turned into a kids' play nook.
She designed curved plywood ramps — similar to ones made for skateboarding — and covered them in carpet for a cool effect. She guesses a similar design could be done for around $2,000, including parts and labor, and would probably take a weekend to complete.
"Everyone loves that element of surprise," Weigley says. "When you walk into a room and everything's understood — there's the bed, there's the dresser — it can be boring. Whereas when you create a space that gets revealed or explored, it creates something in people — a sense of wonder that captures their interests."
Check out how to create a secret doorway behind a bookcase.
How to Create a Secret Doorway Behind a Bookcase