Photographer Nicolo Sertorio and research scientist Seonok Lee were looking for a spacious, multifunctional home with an easy commute to San Francisco. They found what they wanted in a 3,300-square-foot unit that's part of a live-work community in Oakland once owned by artist Bruce Beasley in 1989 and designed in collaboration with architect Thomas Dolan.
Working closely with architect Marc DiGiacomo, they converted their big, blank box into a modern living space with a photography studio for Sertorio's commercial photography business.
Houzz at a Glance

Who lives here: Nicolo Sertorio, Seonok Lee and their cat, Romeo

Location: Oakland, California

Size: 3,300 square feet (about 307 square meters); 3 bedrooms, 3 bathrooms

Year built: 1989
BEFORE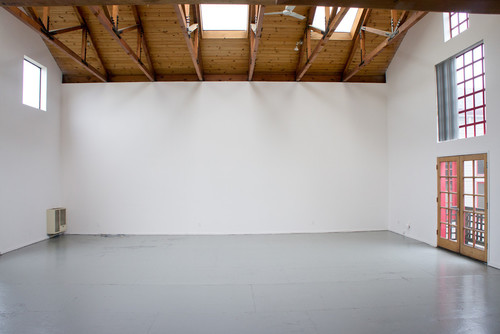 Pictured here is the original main space, with its 25-foot ceilings.
AFTER: Working with architect DiGiacomo, the couple drew up plans to maintain the spacious open room and to build a separate bedroom. The bank of shelves, 31 feet wide and 11 feet high, adds to the drama of the space.
Light bounces around the white walls, and in the evening the space can be turned into a media room using an Epson projector.
All of the photographs in the house, including the two pieces seen here, were taken and printed by Sertorio.
More of A Big, Empty Box Becomes a Mod Live-Work Space
A Big, Empty Box Becomes a Mod Live-Work Space