The brick-like tile, vintage light fixtures and reclaimed wood in this kitchen may imply an earlier era, but the clean cabinetry and modern fixtures point to its more recent design. The owners, newlyweds in Southern California, wanted a kitchen that would replace the outdated old space without looking blatantly brand new. After reworking the layout and closing up unnecessary doors, designer Lisa Gutow expertly blended both contemporary and rustic elements to create a warm, welcoming and eclectic kitchen.
Kitchen at a Glance
Who lives here: A newly married couple
Location: San Clemente, California
Size: 130 square feet
The white planked cabinetry gives the kitchen a low-key feel that's in line with its coastal location. Gutow installed a reclaimed rough-sawn wood beam above the hood as a rustic accent.
The kitchen's size and layout didn't allow for as much storage as the couple would've liked, so Gutow put glass shelves in front of one window to maximize space and still allow for natural light. Since the small window just has a view of a guesthouse next door, the client prioritized storage over the view.
The rustic brick-style backsplash is actually made of cement field tile. Gutow and the clients chose the tile with brick in mind, so it would look like this kitchen has always been here. "We wanted it to look like the drywall had been chiseled away and brick was found," says Gutow.
Hand-painted Italian tile above the stove adds a more modern element and stays in line with the rest of the home's Mediterranean undertones.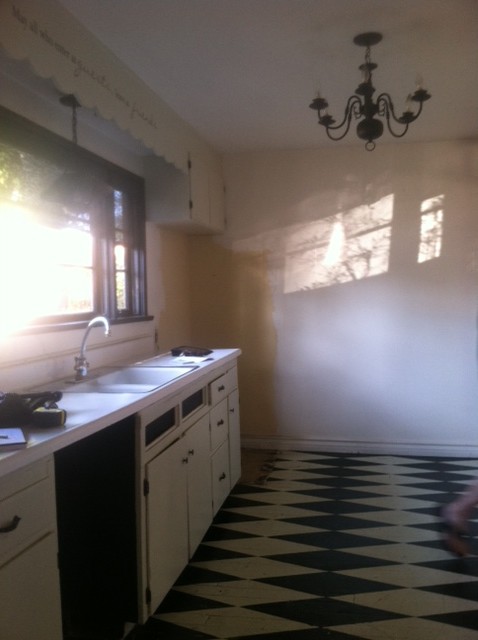 The previous kitchen had been neglected for years. Here's a view of the original space, looking away from the smaller window at the back of the kitchen. The large window above the sink was maintained in the new design.
The kitchen's outdated cabinetry had entire drawers and cabinets missing. The black and white pattern on the floor had worn through in many spots, so Gutow sanded it down and used Annie Sloan chalk paint to create a low-contrast stripe.
Continue reading
Kitchen of the Week: Contemporary Meets Rustic in Southern California