"It has always been my dream to renovate a '50s rancher," says Patti Houston, owner of the home staging company Flüff Designs and Decor. Houston and her husband, developer Rick Williams, made it their mission over a year to completely transform their Vancouver house — marked by pale green carpet, brown linoleum and worn wallpaper — into a modern oasis.
The house "is on a slope-away lot with a killer view. It had great bones but needed a lot of lipstick and rouge," says Houston. "When we started peeling off the first layer, we decided to go full tilt and took it right down to the studs."
Houzz at a Glance
Who lives here: Patti Houston, Rick Williams and their youngest daughter, Jordan (age 21)
Location: North Vancouver
Size: 3,600 square feet; 1 bedroom, 3 bathrooms, 2 offices, plus an 800-square-foot 1-bedroom apartment
Year built: 1954
The kitchen is the first room the couple worked on. "We removed all the walls between the kitchen, dining and living areas to create a totally open space," says Houston. "I love to cook, and that's where we all hang out."
The couple sought help from Curt Olbrecht, a cabinet builder, who installed their new teak cabinetry.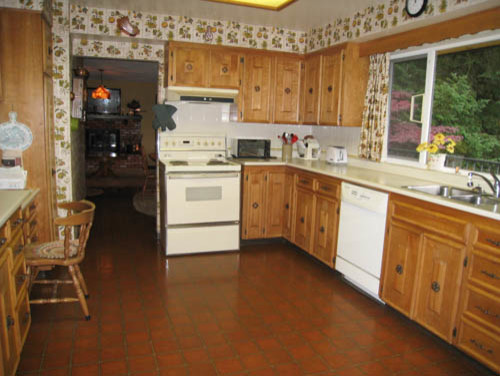 The kitchen originally had dated wallpaper and cabinetry. The couple completely revamped this space and added a new island.
AFTER: Folding windows by NanaWall connect the indoor and outdoor entertaining areas. "Hands down, our favorite feature of the house is the view and our connection to the outdoor spaces," says Houston. "We installed walls and windows that can be totally opened up in the summer. It really suits our lifestyle."
Houston and Williams added a 10-foot-long island and a second breakfast bar behind the stove. "Guests can chat with me while I cook. I call it my risotto bar," says Houston.
Continue reading
Full-Tilt Reinvention for a 1950s Ranch