When it came time to carve out and decorate outdoor rooms on this 100-foot-long terrace, the home's architecture and spectacular site in the Ozark Mountains provided the design inspiration. "I was guided by the fact that the home had a rustic style that used high-quality, top-notch materials," says landscape designer Daniel Keeley of DK Design. "I also needed to respect the pristine setting."
Treating the terrace as he would an interior (no matching patio sets), Keeley created an eclectic look that didn't go overboard, mixing hundred-year-old beams, raw steel, French antiques, new furniture, custom pieces, wicker, teak, felled logs and even a sugar cauldron. The result is a careful balance of luxe and rustic, with clean lines and materials that will weather well over time. Step onto the terrace and we'll take a long stroll from one end to the other.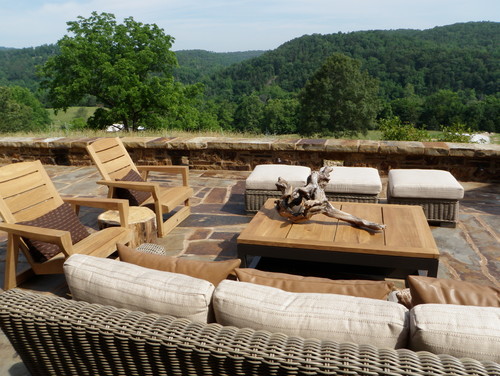 The terrace, designed by Tony Martin Associates, needed to serve multiple purposes and have distinct spaces for dining, seating for large and small groups, and enjoying the view and the fire. Keeley broke up the vast scale by dividing the space into intimate areas.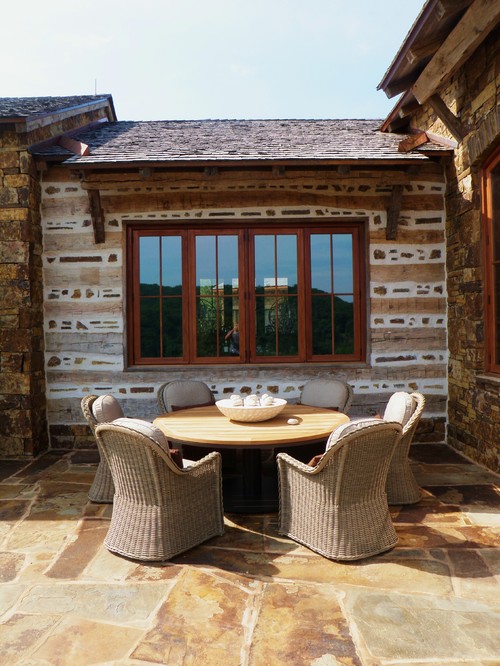 A palette that coordinated with the house and existing Texas flagstone terrace emerged. "Tony Martin did an unbelievable job on constructing the house with reclaimed antique materials; all of the wood inside and out is reclaimed and at least 100 years old," Keeley says.
In response, he picked driftwood-like hues for the furnishings: silvered teak and weathered gray wicker, accented with copper and raw steel.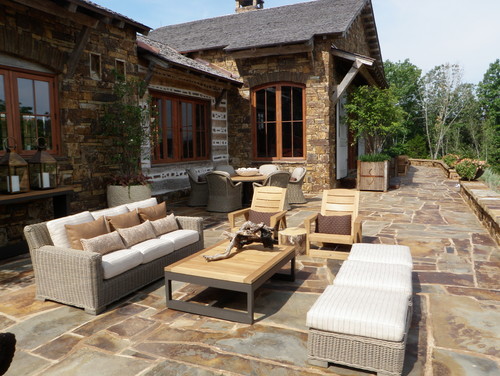 The furniture selection began with a chair design. The homeowner mentioned he liked Adirondack chairs, so Keeley chose some modern teak lounge chairs first and went from there. "The chairs gave Adirondack style a twist for the Ozarks and were more modern; plus, they will weather to a silvery driftwood color," he says.
More about
3-Season Rooms: Luxe Meets Rustic on an Ozarks Terrace