Two stuffed animals, a Technicolor washi-tape table, dozens of hexagonal mirrors and quite a bit of reclaimed wood adorn the walls, ceilings and floors of the 24 fantasy dining rooms on display as part of the Serving Up Style fundraiser for Molly's Fund Fighting Lupus. The event, which ran October 3 to 6, 2013, challenged 24 Portland, Oregon, design teams to come up with the wildest, most creative dining room possible.
Take a look at 10 of these fantasy dining rooms — from a color explosion to a casbah camp to a cowshed — to get a glimpse of each designer's creativity.
ColorBomb
Design team: Garrison Hullinger Interior Design
Garrison Hullinger covered his dining table in decorative Japanese washi tape in bright, brilliant hues. A Technicolor wall treatment and rug and eclectic wall art run with the wild and colorful palette.
Suggested menu: A colorful Neverland-style meal in which food doesn't exist unless you imagine it.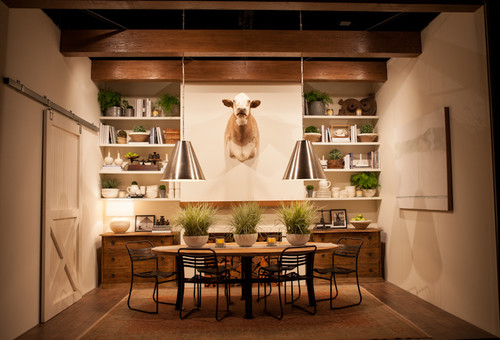 The Byre
Design team: Manor Fine Wares
This room's simple style was inspired by Manor Fine Wares' mascot: Tartare, a cow mount from a no-kill taxidermist (who uses only animals that have died of natural causes). The room is called The Byre, after the English term for "cowshed"; it was inspired by the modern movement in which old buildings are reused for new purposes.
Suggested menu: A local farm-to-table meal that reflects the room's humble cowshed roots.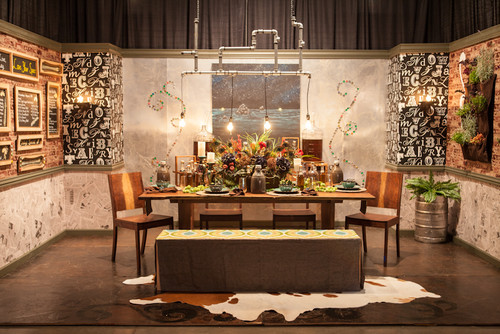 Home Brew
Design team: Ida York Interior Design
Portland has a distinct style and ambience, and this room embraces some of the best of it. Reclaimed wood, elements from local breweries and trendy restaurant-inspired features convey the city's funky blend of old and new.
Suggested menu: Pulled pork, macaroni and cheese, collard greens and bourbon balls over ice cream.
Continue reading
10 Fantasy Dining Rooms for a Good Cause