Nothing conjures up winter nostalgia like an old-fashioned sled. That's no doubt why many people break them out around the holidays. Now that these sleds are being used for decor, their blades may never touch the white stuff again — but that doesn't mean they won't provide hours of enjoyment.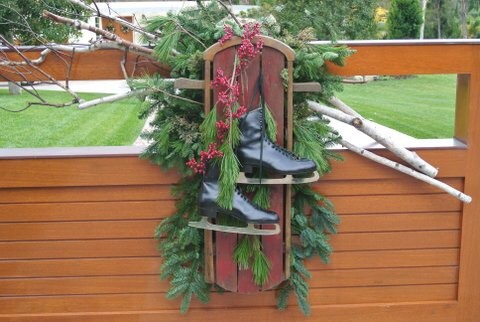 Jeff Hume is co-owner of Vintage Winter, an online marketplace and museum of antique and vintage winter sports items, and he understands the attraction. "A lot of us remember the thrill of accelerating down a hill or piling onto a sled or a toboggan and heading down with our best friends," he says. "Sleds appeal to us."
Interior designer Leanne Michael of Luxe Lifestyle Design enjoys decking the halls of her clients' homes. For the hanging arrangement seen here, she adorned a wooden sled with evergreens and a pair of skates. "Helping our clients to create beautiful, lasting memories through the wonder of holiday decorating is always a pleasure," she says.
Lucid Interior Design
set the wintery tone in an entryway with two small sleds. The cool lines and warm wood make a sculptural statement against the white walls.
This is the kind of discovery many of us dream about. "We found this old sled in the firewood pile when we bought the house," says Janet Black of
J. Tight Interiors
. "Our daughter had the idea to turn it into an entry light."
Read more about
Vintage Sleds Bring a Dash of Winter Nostalgia