For his first home, Tom Thulin wanted what most people want: a place where he could relax and unwind. The busy 38-year-old bachelor and owner of a large distributor of baseball equipment chose a three-bedroom, three-level contemporary home built in the 1990s in Danbury, Connecticut, along a beautiful lake.
But before he could kick back, Thulin needed to make the home his own. Since he rarely cooks, he decided to delay changes to the kitchen and instead focus on the two areas of the home where he would spend most of his time: the family room and the master bedroom. With no experience with interiors, he hired designer Beth Rosenfield to help him update both spaces. The goal was to take advantage of the commanding lake views outside while also creating comfortable rooms with a good dose of sophistication.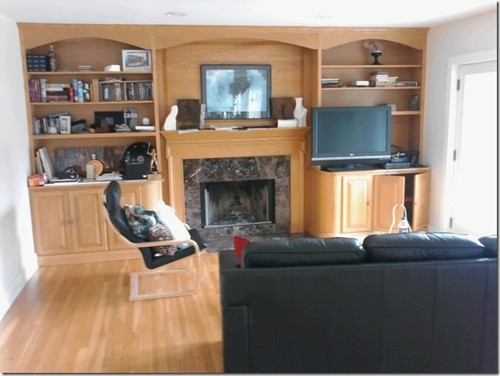 BEFORE:
The existing family room had arched golden oak cabinets, a golden oak floor and a marble fireplace surround that didn't fit Thulin's style. "Since I knew I would be spending so much time in there, I wanted it to be upgraded and done right," he says.
AFTER:
Opening up the family room's doorway off the front entry maximized the impressive view of the lake and deck outside, seen from the double French doors. Refinishing the existing golden oak floors with a custom driftwood gray stain gave the room the fresher, lighter look and modern feel that Thulin wanted.
Next came a redesign of the fireplace wall; it now has clean lines and reinforces the room's more contemporary style. The wall was a complex project that required several tradespeople, including a concrete fabricator, a mantel craftsman and a cabinetmaker. It includes a floor-to-ceiling custom cherrywood media cabinet that replaced the oak cabinets. An open shelf with recessed lights provides space for display or for a bar tray. While the wall is the focal point in the room, it's also designed to draw your eye outside. "My number-one priority was taking advantage of the lake view," says designer
Rosenfield
.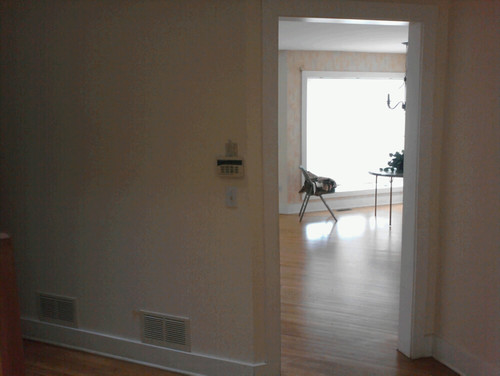 BEFORE:
Here is what the original narrow doorway into the family room looked like, blocking the beautiful views of the lake outside.
New Sophistication for a Connecticut Bachelor Pad