Though the Color of the Year selections from paint companies are geared specifically for use in home decor, Pantone's choice is meant for broader application, such as in the field of graphic design and the fashion industry. Indeed, Marsala, Pantone's pick for 2015, does remind me of a pair of Toughskins pants I sported as a kid growing up in the 1970s. But in all seriousness, this earthy rum-raisin hue also could work well in the home. I just think it needs to be partnered with colors that have a bit more life to them to keep the palette from feeling dull.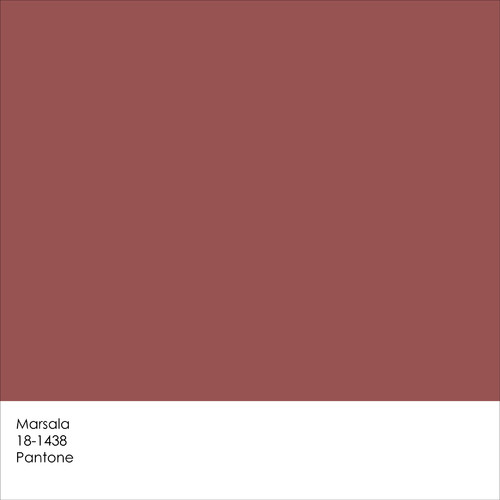 Marsala is a reddish-brown hue, a cherry-chocolate that, according to Pantone's Leatrice Eiseman, "has an organic and a sophisticated air." And while black has perhaps become overused and expected, Marsala has "a vintage but neutral feel, which evokes pleasant memories," she says.
It did not evoke pleasant comments when I posted it on social media sites soon after its release. Many found it too boring or dated. One friend simply said, "Yuck." My favorite comment was from someone who said it reminded her of the mauvey-brown lipstick her grandmother wore in the early nineties.
But one friend did ask me how one could use this color in the home, so let's take a look.
Red hues are thought to stimulate the senses and our appetites, so it's a good choice for a dining area. In this space the ruddy hue is paired with a happy yellow in the adjacent room. The white ceiling and wall of windows join forces with the yellow walls to keep the space light, happy and bright.
Here's a similar red-brown, with more rust in it, that I think works well as an accent wall color in this space. Because this color is so deep and dark, and a bit muddy, it needs lots of white and natural light to keep it upbeat. I think it looks rich and sophisticated here.
Read more of
How to Use Marsala, Pantone's 2015 Color of the Year