Sophisticated lounges, relaxing retreats, crystal-filled tablescapes, art from around the world and imaginative rethinking of holidays and celebrations define the displays done by designers in this year's Holiday House NYC. Each of the 23 designers has his or her own interpretation of the holiday theme. The resulting rooms range from showing inspiring ideas for the upcoming winter holidays and beyond to being celebrations of personal milestones and odes to vacations and travels. The house is part of a seventh annual fundraiser benefiting the Breast Cancer Research Foundation. Here's a look at what the designers have put together this year.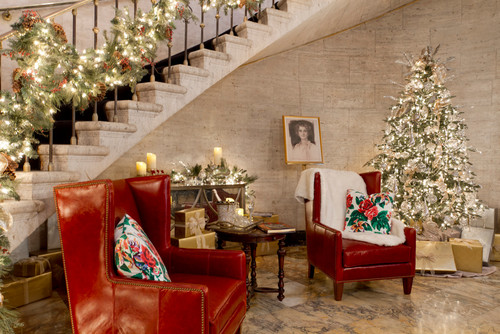 Deck the Front Hall
Design team: Carleton Varney
The holiday theme gets off to an inviting start in the main stair hall. Designer Carleton Varney partnered with Frontgate to show innovative approaches with traditional holiday decor. One of the highlights is the glass-paneled bar cabinet, which complements the sheen of the ornaments and lights. Inviting red leather wing chairs contrast nicely with the greenery and lights.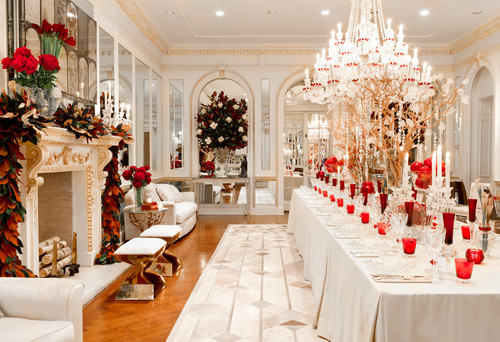 Galerie des Glaces
Design team: Amy Lau Design
A Versailles-inspired grand dining room is the perfect setting for celebrating Baccarat's 250th anniversary. Amy Lau teamed up with the company when designing the space, highlights of which include Baccarat's magnificent chandelier and the 20-piece tabletop setting. The custom cowhide mosaic rug adds to the sense of royal splendor and couture magic that define the room.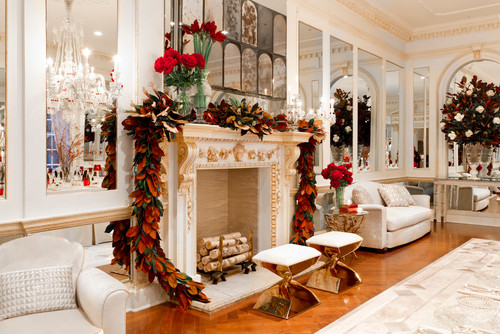 The large-scale floral installations were done by Van Vliet & Trap, the floral designer for the Metropolitan Museum of Art, the Museum of Modern Art and the New York City Ballet.
See more of this Celebration of Design at Holiday House NYC 2014
A Celebration of Design at Holiday House NYC 2014