The good bones of this house were merely a bonus for the young Canberra, Australia, couple who bought the property in 2003, attracted by its garden of rare plants. While Stuart and Zoe Smith loved the midcentury style of the 1950s home, they also recognized the need for an update.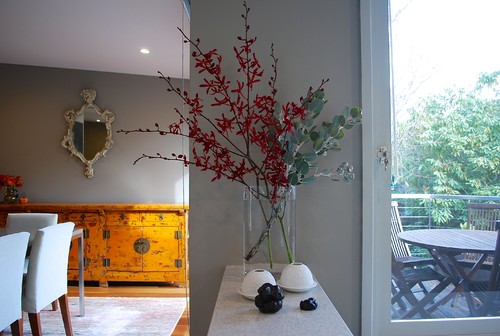 Houzz at a Glance
Who lives here: Stuart and Zoe Smith; their children, Edward (age 7) and Matilda (9); and Aloysius the rabbit
Size: 4 bedrooms; 3 bathrooms
Built: 1950s, with a master bedroom added in 1977
Award: The renovation of the kitchen and living areas won the 2008 Master Builders Australia National Award for best renovation under $200,000. The couple measures the project's success by the increased light and flow and the kitchen's integration into the main living area.
The family employed local architects Blair Mullins and Paul Tilse to open up the interior for more functional modern living. Then family friend and interior designer Jan Pollock helped devise a design with warm, earthy tones. Builder Bruce Wallace Plummer executed the project, allowing the couple to make variations to the plan and work on the project organically.
Adding two large openings — a walkway and a pass-through — to the kitchen created flow. The pass-through enables meals to be easily handed from the kitchen to the dining table while dividing the two rooms.
A change in floor finish also helped subtly define the kitchen space. The dark polished concrete-look porcelain tile acts as an anchor for the light and bright kitchen cabinetry and countertops. A reflective stainless steel toe kick gives the cabinetry an appearance of floating that is complemented by high-gloss polyurethane cupboards, Caesarstone countertops in Snow and a white glass backsplash. The overall effect is one of bright, clean sophistication and light with the added benefit of easy maintenance.
Interior designer Pollock oversaw a custom design of the dining table, which has stainless steel legs and a polyurethane top to match the kitchen cupboards. Comfortable upholstered dining chairs with wood legs are complemented by a hand-knotted silk rug beneath.
A portrait of Zoe and the couple's first child, Matilda, by artist Christine Henderson, hangs to the left of the dining table.
My Houzz: Earthy Update of a Midcentury Family Home
My Houzz: Earthy Update of a Midcentury Family Home