William Aldinger found a place that had everything on his wish list for a home in San Francisco, including two bedrooms, a top-floor location and a balcony. "I also wanted a place where I could have friends over for dinner and drinks. And I knew I wanted something newly constructed," he says.
Aldinger's busy work schedule meant he needed some help to transform the apartment into a home and a place where he could entertain. Interior designer Juli Baier provided that help. "He told me that he had absolutely no time and felt he didn't have a vision for how to develop the space," says Baier. After looking on Houzz for inspiration, she discovered that her client was attracted to wood and an industrial look. That set the stage for a space that reflects Aldinger's style and love of entertaining while showcasing his collections of whiskies and wine.
BEFORE: A condo in a newly constructed building allowed Aldinger and Baier to start from scratch.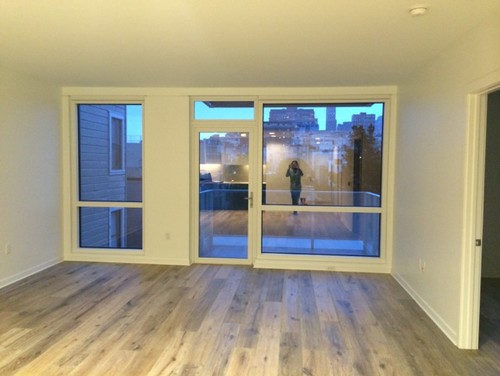 Houzz at a Glance
Who lives here: William Aldinger
Interior designer: Juli Baier
Location: San Francisco
Size: 1,000 square feet (93 square meters), 2 bedrooms, 2 bathrooms
AFTER: Baier warmed up the main room with a comfortable sofa, a textured rug and a fantastic armchair. Aldinger's sister is an artist, and one of her large pieces hangs over the sofa.
Although the condo's main living space is essentially one large room, a reading lamp and a comfortable chair create an intimate corner.
See more… City Condo Is Set to Entertain
City Condo Is Set to Entertain