Hey, the 1970s weren't all bad. That's the spirited approach this father and his three kids took with a 40-year-old house on the outskirts of Vancouver. Though nothing inside the house had changed since disco music topped the charts, everything had been superbly maintained. All it needed was a little refresher.
Interior designer Sarah Gallop stepped in to update the home's function by opening the compartmentalized rooms, but she maintained the hustle-dance vibe by preserving the original fireplace and wood paneling in the living room. "We wanted to keep the home in that era, because the client is a little funky," Gallop says.
BEFORE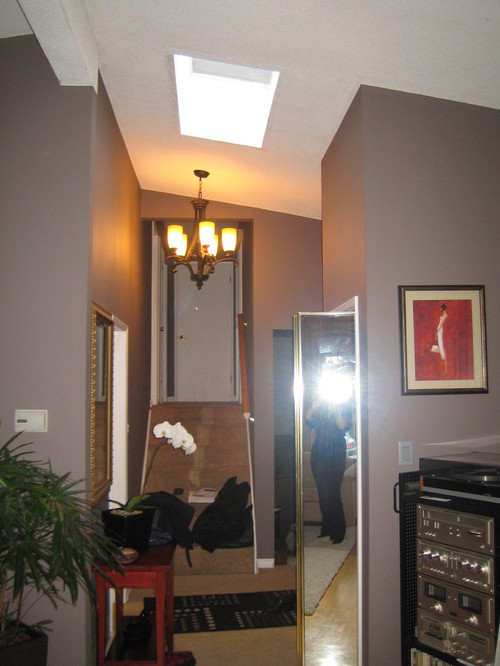 Houzz at a Glance
Location: Delta area of Vancouver
Who lives here: A father in the media business and his 3 kids, ages 10 to 13
General contractor: Best Builders
Size: 2,120 square feet (197 square meters); 4 bedrooms, 2 bathrooms
The front door originally led down these stairs and into the kitchen, which was closed off with three walls and a flat, dropped ceiling. "I walked in and immediately thought, 'This is not the right spot for this room,'" Gallop says.
After" photography by Ema Peter
AFTER: Gallop relocated the kitchen to a back wall where the former dining room used to be, to create an open layout that connects the living room and new dining space (in the former kitchen).
More Houzz Tour: Dancing to the 1970s in an Updated Vancouver Home
Houzz Tour: Dancing to the 1970s in an Updated Vancouver Home