Chicago chef Paul Kahan is fresh from a recent kitchen remodel; the paint was drying on the walls while I took pictures. He codesigned his kitchen with his wife, Mary Klonowski, and general contractor Nate Loevy. Using Seattle company Henrybuilt's design services, they took a wall down and relocated the plumbing stack from above, enlarging some doorways and redoing the floor. Paul and Mary already had all the appliances: Sub-Zero Pro 48-inch refrigerator, Viking 6-burner range with griddle, Viking hood with external blower, Miele dishwasher and Kohler sink.
Chef: Paul Kahan
Location: Chicago
Restaurants: Blackbird, Avec, Publican, Big Star, Nico
Specialty: Farm-to-table American cuisine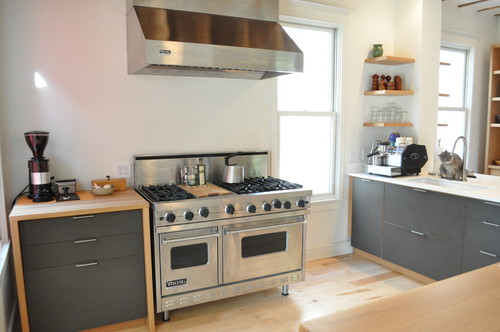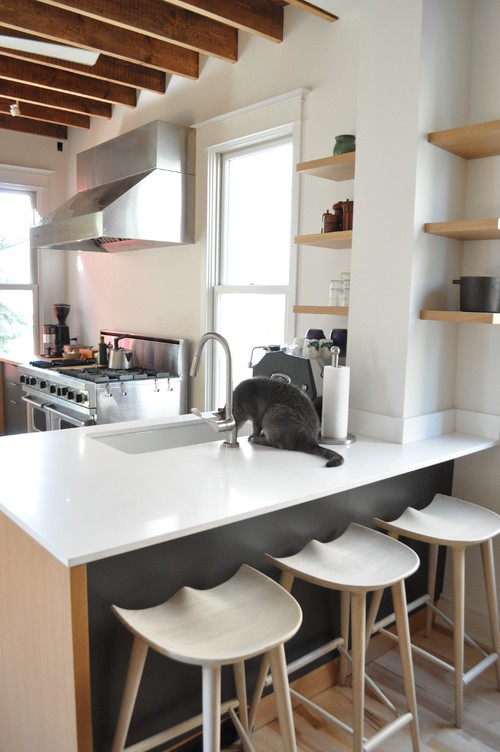 Q. What's your ideal kitchen layout? It looks like you guys sort of have a broken U-shaped kitchen due to the existing windows.
A. Well, you know, I work in this environment that is full of clutter and stuff everywhere. At home I'm really into clean, uncluttered looks — I don't like wall cabinets with doors on them. It's a 110-year-old house, and we're slowly modernizing it, keeping within the bones of the house.
We have a lot of open shelving, and the pantry was completely redone by Henrybuilt as well. The pantry has a large Julia Child–style wall with sliders and pots and pans. I've got something like 30 different pots and pans that I can hang; larger ones that I can't go on shelves. The peninsula has seating on one side and houses the main sink — it feels more like an island.
What's important: Ample counter space to cook on and lots of storage, which is why I got the big fridge. I like to have things that are beautiful on the shelves, not everyday clutter. The kitchen table is counter height, and it's on wheels and moves around. Six people can sit at it, and because we have limited space, you can put it up against the wall and use it for prep. Lots of times when we have parties, we wheel it on the back porch and use it as a buffet.
If I had all the space in the world, I would build the kitchen around entertaining. Everyone gravitates there anyway. I would do a multipurpose area with an island that had a sink and prep area, with a wing that comes off it where people could sit and dine at.
I'm kind of an espresso nut, and our La Marzocco espresso machine sits next to the sink on the peninsula. I'm also an audio freak working on great sound in the kitchen, living room and dining room at the moment as well.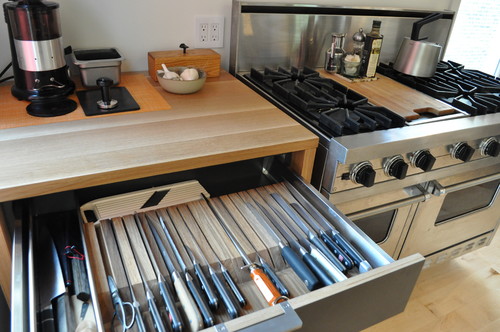 Q. And your ideal cooking appliance arrangement?
A. You know, for years I've lusted after a La Cornue … but I don't know if there's anything on the residential market that really functions like a true professional stove for the home. I've currently got a 48-inch Viking with two ovens and an infrared broiler, and it works for us. Love the setup of four burners or a French top. I would do a multipurpose area with an island that had a sink and prep area, with a wing that comes off it where people could sit and dine.
Q. What do you think of open burners versus closed burners for a range top? Would you do an induction cooktop as a replacement to gas — or as a supplement?
A. If I had a different house or kitchen, I think I would do two induction burners, and the prep sink and gas range on the main wall. I worked in a friend's kitchen in D.C., and the induction top took a while to get used to, but they're amazing. They work well for everything, great for sautéing. For me, I'll be cooking with gas until I die, but I'll use induction too. They're really clean, you just wipe them down, and they're functional. I might do it slightly recessed so I could do a cutting board and have extra counter spaces.
Continue reading
Pro Chefs Dish on Kitchens: Paul Kahan Shows His Urban Sanctuary