A low-slung upholstered ottoman is an easy, budget-friendly and high-impact DIY upholstery project. And because you make it yourself, it's completely customizable.
The first thing you'll need for this project is a frame. Retrofitting a shipping pallet works perfectly. Once you're happy with your choice of a pallet, it's time to get to work creating your one-of-a-kind upholstered ottoman. It's easier than it looks — all you need are a few supplies and a very basic knowledge of sewing and woodworking.
Watch out! If your friends find out how you made it, they'll want to buy yours or have you make one for them.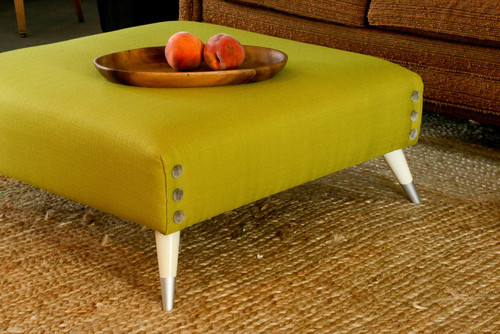 You'd never believe this was once a shipping pallet, right? A combination of textured chartreuse fabric, dressmaker detailed gray velvet buttons and silver-tipped modern legs means this ottoman will take center stage in any home or studio.
Materials needed:
A safe pallet (keep reading for tips on choosing one)
Enough 1-by-4 pieces of straight boards to attach to the bottom edges of your pallet
Drill (bits and Phillips head chuck)
1½ -inch wood screws
Staple gun (preferably electric)
Electric knife (to cut foam)
Scissors
Burlap or scrap fabric
2-inch-thick foam
Dacron batting
2 yards of fabric
Covered buttons
Needle and thread (optional)
Legs and attaching hardware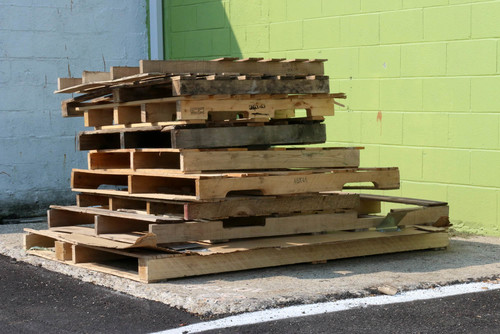 First, let's address any concerns you might have about using pallets. Not all pallets are created equally. I'd suggest using non-chemically treated, new, dry, un-weathered pallets for this frame. If you still have worries about using a pallet, you can easily construct the same simple frame from scrap wood.
If you do decide to use a pallet, steer clear of anything with an HT or MB stamp. These indicate heat treatment (possibly with chemicals) or methyl bromide treatment. The pallet I used here has no marks, it looks like new wood and it's a smaller pallet, sometimes called a quarter-pallet. I got mine from a kitchen cabinet distributor next to my shop, but you can find new pallets online for less than $20.
Pallets can have strong threaded nails in them, too. Make sure you're aware of all nails before cutting into a pallet.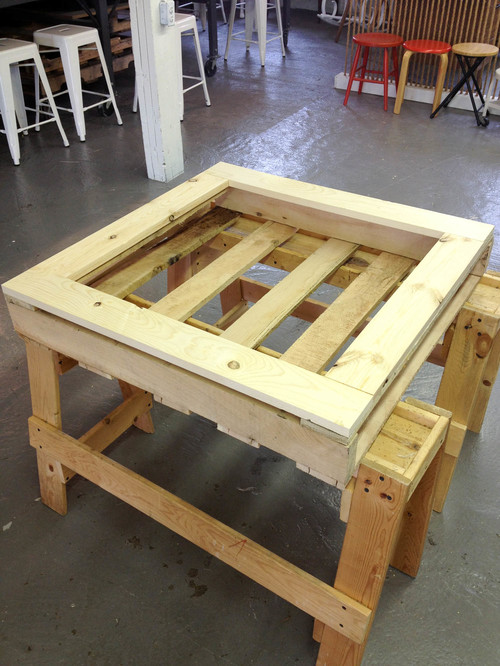 Measure, cut and attach 1-by-4 pieces of wood to the bottom edge of the pallet.
Continue reading
Turn a Shipping Pallet Into a Stylish Ottoman