Home cooking is surging in popularty; the evidence is everywhere. Food bloggers are probably more numerous than restaurant reviewers. Cooking shows' ratings are soaring. Food author Michael Pollan is a celebrity. As people renovate their home kitchens, they may be going casual, but they are investing in chef-quality equipment to elevate their cooking: commercial stoves, high-end espresso machines, wine refrigerators, sous-vide cookers.
A piece of furniture that can really make your dining nook feel foodie ready is the banquette. It's intimate and restaurant booth–like, and because it can fit in small spaces, it is often right in the kitchen, like a chef's counter. Each of the homes below feature a radically different style of banquette, but they all exude that chez maison atmosphere.
The food lover in me couldn't help but take a guess at what kind of cuisine each place serves.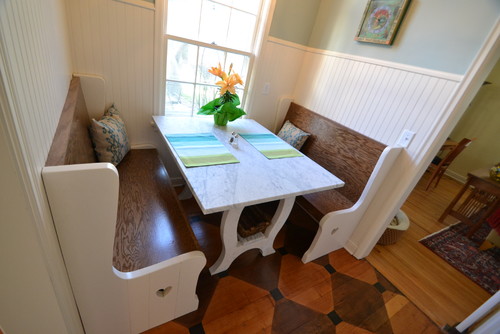 1. American traditional comfort food with a twist. You might wonder where I came up with comfort food, since the benches are pure wood and those pillows aren't going to assist too much. But I like the tradition of the wainscoting and a marble-top table with the twists: the wildly patterned wood floors and high-backed benches with heart-shaped cutouts. Tradition finessed.
2. Japanese steakhouse or Asian fusion. There is an orderliness and geometry to this built-in banquette, with its dark, comfortable cushions. It has me thinking "hibachi."
Banquettes can be great solutions for small spaces. Bennett Frank McCarthy Architects, which designed this house, notes that you should allow a comfortable 2-foot width per person, but the more inches you can add, the better.
3. Soda-fountain food from the 1950s, elevated. Wagyu burgers topped with sesame aioli, and a side of lobster fries on this menu? The giveaway is the midcentury modern Verner Panton chairs. This kitchen in Irvine, California, slyly introduces a zany element in an otherwise pretty straightforward trendy white kitchen. The red pops of color show a willingness to play a little.
M&J Star Construction custom built the booth with a plywood frame. The finished material is MDF (medium-density fiber board), to get the smooth curve. The banquette seats three adults.
Continue reading
Paging All Foodies: Your Banquette Is Ready