I've witnessed many a homeowner become intimidated by color and fall back on white or beige for their dining rooms. That's not to say you should never use those light, neutral hues in your home; but if you are looking to step outside your beige-clad comfort zone, yet prefer keeping to a neutral palette, consider using gray. Medium to dark grays are especially unexpected in a dining room. They have an air of sophistication, and they look crisp and modern when mixed with white. You can warm it all up by incorporating wood tones or other warm neutrals, which I highly suggest if you live in a cool, rainy climate.
Check out my gray paint selections for dining rooms along with seven suave dining rooms awash in shades of gray.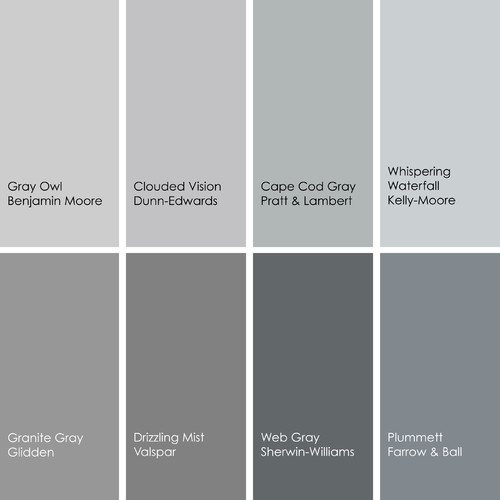 Gray paint picks for dining rooms (clockwise from top left):
1. Gray Owl 2137-60, Benjamin Moore
2. Clouded Vision DE6380, Dunn-Edwards
3. Cape Cod Gray 28-24, Pratt & Lambert
4. Whispering Waterfall KM3849-1, Kelly-Moore Paints
5. Plummett 272, Farrow & Ball
6. Web Gray SW7075, Sherwin-Williams
7. Drizzling Mist 4006-1C, Valspar
8. Granite Gray A2005, Glidden
This room feels light-filled and airy despite the rather dark gray wall color. By pairing this gray with lots of white, you get a nice dose of drama from the dark hue without having it feel heavy or gloomy. In fact, it's the perfect neutral backdrop for small dashes of bold blue or any other color you might want to introduce to the space.
The gray on these walls is a bit cooler than the previous example, but the white ceiling and window trim and the light-colored flooring have the same effect of softening the walls' heavy hue.
Speaking of windows, my eye is drawn right to those fantastic floor-to-ceiling windows. It's the contrast between the deep, dark wall color and crisp white trim that makes them really stand out. If you have interesting architectural details in your dining room, use color to call attention to them.
Dark gray also makes the perfect backdrop for light-colored artwork or decorative accessories. You can also use lighting, such as the wall-washing cans here, to draw attention to artwork on a darker wall.
Continue reading
Color Feast: When to Use Gray in the Dining Room